Holiday Parties Planning Tips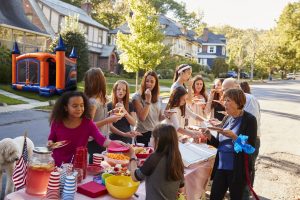 'Tis the season for holiday parties and searching Pinterest for new and different party planning tips. From Thanksgiving to New Year's many of us will be ho-ho-hosting holiday parties and gatherings for friends and family. You can generally get by pretty easily with a spread delicious appetizers and a few festive cocktails when entertaining adults. However, when you're party planning for younger guests, you might have to put forth a bit more effort.
If you're making memories with the little ones in your life this season by hosting a festive gathering, we have some great holiday party ideas for kids.
DÉCOR: With a roll of dollar store packing paper, a Sharpie, and some cute paper plates and utensils, you can make a fun, festive, and eye-catching table. Add a few pencils and invite kids to write their Christmas lists or leave paper and envelopes and encourage guests to write a letter to Santa. Leave crayons by their place setting and young artists can leave a rendering of Rudolph or Santa himself on the table covering
GAMES and ACTIVITIES: For younger kiddos, you can take any traditional party game and make it holiday-themed. Pin the nose on Rudolph or baking snowman cookies for ornaments. Living in South Florida, we can still utilize fun outdoor activities, such as bounce houses, "snowball" races (like egg races, but using a Styrofoam snowball), or dry slides.
SNACKS and TREATS: You can go really crazy with festive foods. Using marshmallows, pretzels, chocolate, and your imagination, you can create deer, snowmen, and many other sweet treats that the kiddos will love. Use a bit of paper and markers to make juice boxes into Frosty. Looking to go a little healthier? Create Santa hats from strawberries or make a colorful veggie tree tray. If you want to bring a little snow to your backyard, a Sno Cone Machine is the perfect addition!
CRAFTS: It's always fun to have a craft available, and a few simple items can make very cute ornaments that even most parents will be happy to hang on their trees. Using cinnamon sticks, leftover ribbon cut in strips, and a bit of twine, you can create cute little tree ornaments that are easy-to-make and look adorable. And if you really want to be the coolest parent on the block you can help your pint-sized party guests make this festive peppermint slime.
Need more ideas? All Around Fun is your source for all things party-related such as inflatables, bounce houses, water slides, tables and chairs. Contact us today!