2019 Wedding Trends
Year after year, wedding trends continue to be as unique as the couples who are joining their lives together. Pinterest offers modern brides so many more options than the mirror and floating candle centerpieces that graced the reception tables of the 1990s and early 2000s. Let's take a look at some 2019 Wedding Trends.
Perhaps paradoxically, as technology grows, weddings become more personalized than ever before. According to some of the industry's leading wedding planners, 2019 will be one of the most exciting wedding seasons to date.
If you're planning nuptials this year, you'll want to pay close attention to these 2019 wedding trends:
The most recent royal wedding will definitely inspire some brides that dream of being a princess on their special day. Wedding planners predict that large flower installations will be popular this season, allowing brides to feel like royalty and guests to imagine they are stepping into a fairy tale.
Flowers will be complemented with grasses such as pampas and wheat. Designers love mixing in the chic simplicity of grasses to add depth and an unfussy element.
Other wedding trendsetters predict that more adventurous palettes might edge out the blush décor and soft accents that have dominated the wedding scene in the past few years. Look for jewel
colors and deep earth tones as well as blends of colors not traditionally seen together such as ruby red and sunflower yellow.
The statement cake will take center stage this year replacing last year's dessert displays with lots of different treats. Look for brazen, eye-catching fondant focal points in look-at-me colors such
as bronze, blue, and gold.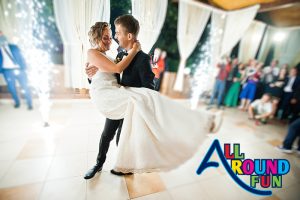 Couples continue to break from traditional ceremony elements by creating round, intimate seating areas, or a long, winding aisle. And for smaller events, couples are making things even more intimate by adding personal notes instead of generic cards at place settings.
Clever creative balloon walls and arches show that balloons aren't just for children's parties. And expect more—and better—interactive displays such as selfie stations and creative food set-ups.
Finally, in the less is more department, some couples are leaning toward the minimalist trend, employing a simple color palette and natural materials such as wood, stone and marble.
However you plan to celebrate your special day, All Around Fun has the tables, chairs, and tents you might need at a price that will allow you to splurge on balloons, flowers and cakes! Learn more about 2019 Wedding Trends today! Give us a call today at 561-737-8199